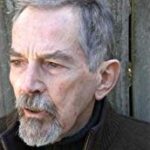 After four years in the Navy and nine years of university teaching (a mistake), I wrote Our Jo, a comic novel about a real historical figure, the 17th century actor Jo Haynes, followed by several espionage novels under both my own name and the pseudonym George Bartram (now re-published and available as e-books). After writing several non-fiction books, I returned to fiction with my son, the historical and fantasy author Christian Cameron, as co-author to write a naval espionage series under the pseudonym Gordon Kent.
Thereafter, we went our separate professional ways; I wrote the Denton series of mystery novels about an American living in late Victorian London; my then editor called these "the best mystery novels you've never heard of" because the publisher hadn't done zip to publicize them. (I hadn't realized how much publishing had changed from my early days.) The Denton books are currently being re-published as e-books.
I am now working on a five-book fantasy series about Moody, a Roman soldier from the Legion's last days in Britain who finds himself with powers that confuse him and missions imposed on him by whom or what he never knows. The first Moody book will be Moody and the Fateful Lightning, the second Moody and the Jews of Venice. In addition, I will be publishing several standalone novels from my more recent days in the wilderness.
If I have my druthers thereafter, I'll write more Denton books, but…we shall see.